Fuglekassekamera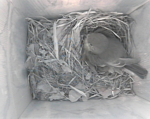 Sjekk opp vår demonstrasjonsside for fuglekassekameraer.
Bla i vår sommerkatalog

Carl Zeiss Victory 8x45 RF
Kikkert med avstandsmåler
Tilgjengelighet: 2-4 dagers leveringstid
Carl Zeiss Victory Rangefinder er fullverdige kvalitetskikkerter som i tillegg har laseravstandsmåler og Ballistic Information System (BIS) for jaktformål. Gummiarmerte kikkerter med nitrogenfylling og Lotutec vannavstøtende coating.
| | |
| --- | --- |
| Varenummer | 115051 |
| Forlag/produsent | Carl Zeiss |
| Vekt i gram | 995 inkl batterier |
| Lengde x høyde | 167mm |
| Synsfelt v/ 1000m | 125m |
| Nærgrense | 5,5m |
| Vanntett | Ja, vann og duggtett med nitrogenfylt |
| Øye relief | 16mm |
| Armering | Robust gummiarmering |
Leveres med batteri, corduraveske, bred bærereim og objektiv- og okulardeksler.

De som søkte Carl Zeiss Victory 8x45 RF søkte også
Produsentens egen omtale:
Victory 8 x 45 T* RF and Victory 10 x 45 T* RF
Compact innovative binoculars from Carl Zeiss with combined functionality
Observation with high-performance optics
Precise Laser-Rangefinding
Ballistic Information System BISTM
Laser rangefinders are, today, a meaningful and accepted piece of equipment for determining range to game and correcting ballistic influences for a reliable shot.
Now that Carl Zeiss has successfully implemented laser rangefinding technology into its Diarange riflescope models, the company will turn to integrating it into observation instruments.
The Victory 8 x 45 T* RF and Victory 10 x 45 T* RF binoculars not only features very bright and powerful optics with LED displays, its integrated BIS(TM) ballistic information system also delivers the information required to correct the holdover in a fraction of a second.
Additional important features include ease of use and informative, not overloaded display concept - all in an ergonomically design for comfortable handling.







Victory
8 x 45 T* RF




Victory
10 x 45 T* RF


Magnification



8 x




10 x


Objective lens diameter



45 mm




45 mm


Exit pupil



5.6 mm




4.5 mm


Geometric brightness



31.6




20.3


Twilight factor



19.0




21.2


Field of view / 1000 m



125 m




110 m


Apparent FoV



57 °




63 °


Close focus distance



5.50 m




5.50 m


Eyerelief



16 mm




15.5 mm


Interpupillary distance



54 - 76 mm




54 - 76 mm


Dioptr.-adjustment (+/-)



3.5 dptr




3.5 dptr


Length *)



167 mm




167 mm


Width **)



95 mm




95 mm


Weight incl. battery



995 g




995 g








Laser



Class I
904 nm IR




Class I
904 nm IR


Measuring range ***)



10 - ca. 1200 m




10 - ca. 1200 m


Measuring accuracy



+/- 1 m (up to 600 m)
+/- 0,5 % (> 600 m)




+/- 1 m (up to 600 m)
+/- 0,5 % (> 600 m)


Beam divergence



1.6 x 0.5 mrad




1.6 x 0.5 mrad


Duration of measurement



max. 1 sec




max. 1 sec


Next measurement after



3 sec




3 sec


Number of measurements with new battery



ca. 10,000




ca. 10,000


Display duration



3 sec




3 sec


Low battery indicator



yes (display blinks)




yes (display blinks)


Battery



3 V Lithium CR2




3 V Lithium CR2








Order no.



52 45 16




52 45 18
Parts included
Cordura case (Order-no. 1285.644)
Eyepiece caps (Order-no.52 92 23)
Objective lens caps (Order-no. 52 92 22)
Neoprene carrying strap (Order-no. 52 91 19)
Lithium battery CR 2 (3 V)